Lexus Brake Services in Calgary
The Lexus braking system is a safety mechanism that we take great pride in servicing as a dealership committed to Lexus service excellence. When it comes to your brakes, you do not want a substandard mechanic working for an independent service shop or quick lube retailers doing this work for a Lexus. As a Lexus-certified service department, our certified technicians are uniquely qualified to provide you with the best service in Calgary. We offer all of the brake services your Lexus will ever need at Lexus quality matching that of your vehicle at Lexus of Calgary.
Brake Services
Brake Fluid Exchange - With brake fluid being the life-giving hydraulic needed for your brakes to operate successfully when you push the brake pedal. We are here to service your vehicle's brake fluid with routine inspections and replacement service when it's found to be leaking from a worn component or contaminated by water.
Learn More
Brake Pad Replacement - When the brake pads are due for replacement, they will emit a warning screech signaling that they are worn out. We provide efficient brake pad service as needed for worn pads including front, rear, and all brake pad replacement services. Rest assured that our certified technicians will install the highest quality genuine Lexus OEM parts to complete the service.
Learn More
Rotor Resurfacing or Replacement - Friction, resistance, and stopping power. Resurfacing removes the blemishes and returns the disc to specifications. If the blemishes cannot be removed to restore specs, a replacement service will be needed with the old rotor removed and a brand new one installed.
Learn More
Caliper Service - The brake calipers squeeze together to push the brake pads against the brake rotors, and they will regularly need to be cleaned, lubricated, and inspected to ensure that they are providing the necessary precision.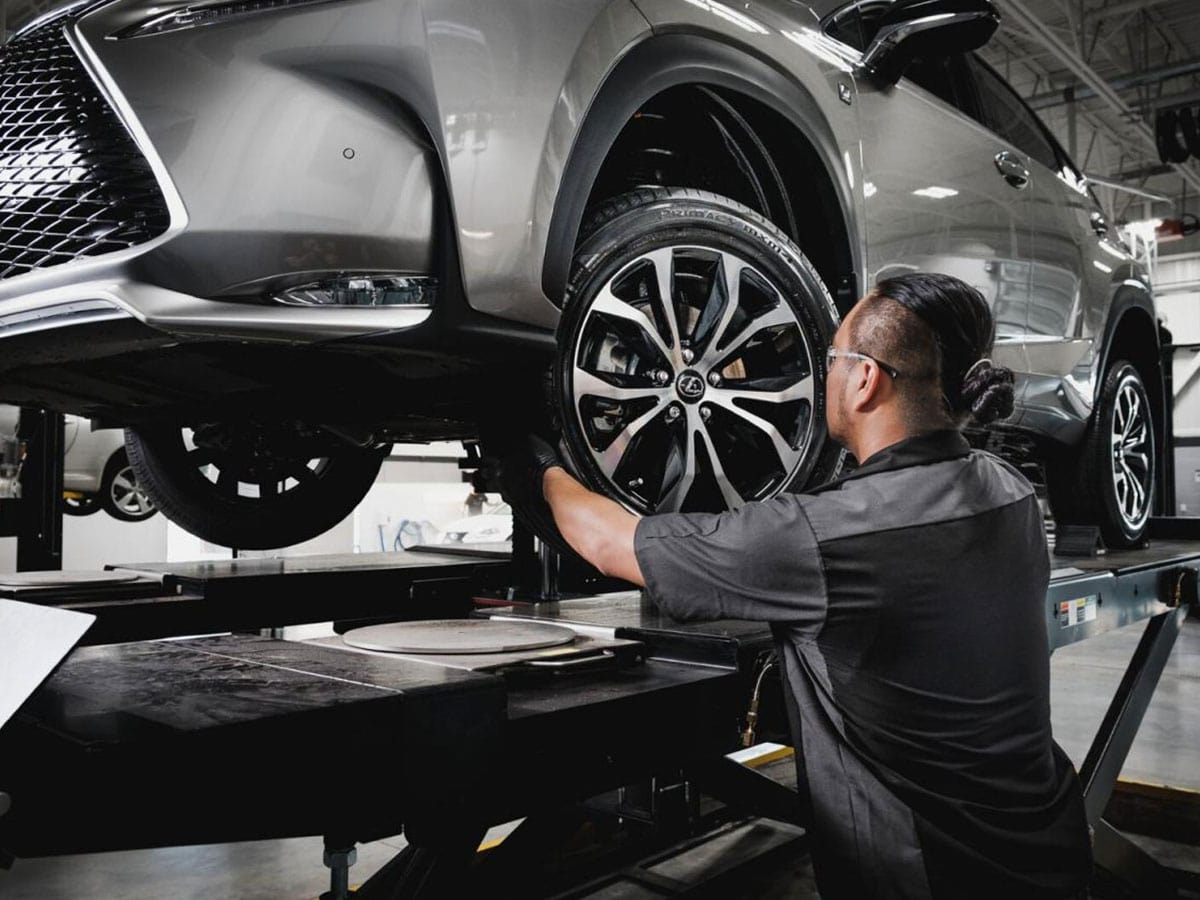 Telltale Warning Signs of Faulty Brakes
With the brakes being essential for safety, we recommend knowing the symptoms of a brake component problem and responding promptly with an inspection and corrective maintenance if any of them show up in your driving experience:
Noises when braking are often described as loud screeching, squealing, or metallic grinding.
Vibration, wobbles, or scraping when braking
Leaking brake fluid
Pulls to a side when braking
Pungent burnt odor when driving near the wheels
Brake pedal feels spongy, stiff, or must be pushed farther down
Car needs more distance to stop
Brake system warning light is on

Schedule Service
Schedule Brake Service at Lexus of Calgary
When you are ready for brake service in Calgary, AB, visit our schedule service page or call to speak with our friendly staff. Enjoy our many amenities during your service, such as a children's play area, complimentary beverage and coffee bar, and snacks. If you prefer to continue with your day, we have rental cars available, courtesy loaner cars, and a courtesy transportation shuttle. We look forward to seeing you at Lexus of Calgary.
Complimentary Amenities
Lexus owners who want to get the most out of their vehicles choose us for an all-inclusive service menu performed according to Lexus-certified quality assurances. Certified technicians complete services in a state-of-the-art facility with genuine OEM parts guaranteed by a Lexus warranty. Visit the online service scheduling tool or call the service center to secure appointments.
Free Wi-Fi
Courtesy Loaners
Courtesy Transportation Shuttle
Business Workstations
Quiet Room
Parts & Gear Boutique
Complimentary Beverage & Coffee Bar
Complimentary Snacks
Newspapers & Magazines
Massage Chairs
Comfortable Waiting Area
State-of-the-Art Facility
Extended Hours
Saturday Service Hours
Home / Office Pick-up & Delivery
Fresh Baked Cookies
Flat Screen TVs
Nail Salon