Gracious Guest Reviews & Auto Express Driver Power Survey Results
Blog
Jul 24th, 2017
Our team of professional and knowledgeable employees strive to create the ultimate ownership experience, one guest at a time.We want to make your vehicle shopping and servicing experience as effortless as it can possibly be.
We love getting feedback from guests on how their individual experiences with us went. Plus, we're proud of Lexus for recently being named the best manufacturer in the 2017 Driver Power Survey by Auto Express. Keep reading to learn more!
What Guests Are Saying About Lexus of Calgary
"I was absolutely blown away by the shopping experience through Lexus of Calgary. All the staff were exceptionally kind, knowledgeable, and extremely pleasant. Our product adviser was incredible at providing a pressure free buying experience, and the best customer service of any dealership we visited during my time purchasing a vehicle. The guest service received from reception, service, management, and finance employees was incredible. Overall, I'm blown away with the entire dealership and would not hesitate to purchase again or refer friends and family." —Steven W., Guest
Our  guest reviews  speak for themselves.  We are so honored  to help every guest who walks through our doors with serviceneeds or to shop Lexus cars in Calgary.
Lexus Named Best Manufacturer by Auto Express 2017 Driver Power Survey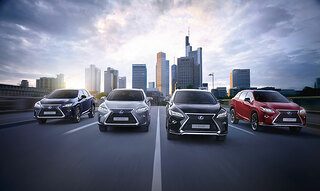 Besides public opinion, we are also proud to share that Lexus has been named the best manufacturer in the annual  Auto Express's 2017 Driver Power survey!
The findings from the survey are based on an accumulation of thousands of car owners  and their opinions of luxury car brands overall.  The study covers a range of topics, including reliability, build quality, handling, performance, and running costs.
Lexus earned the top ranking score of 92.29 percent, and  finished first in the engine and transmission categories as well as scoring high for design and reliability!
In addition to the Auto Express survey, individual Lexus models, like the Lexus RX and Lexus CT, were ranked in a top ten lists for the best car to own  and most reliable cars.
Renowned VIP Service at Calgary Lexus Dealership
To learn more about our Lexus inventory and  financing options, please do not hesitate to  contact us. When you're ready, come visit us to experience the difference with Lexus of Calgary!