Meet Zaneta Cvernova. Originally from the Czech Republic, she's been our barista at Lexus of Calgary since 2014. Zaneta hand-crafts delicious coffee beverages and keeps our clientele and employees caffeinated.
Quick Facts
Place of Birth: Czech Republic
Year Joined Lexus of Calgary: 2014
Hobbies: Traveling, Skiing, Hiking
Most Interesting Job While Going to School: Hospitality Events Coordinator
Languages Spoken: Czech, English
Employee Spotlight
Q: How long have you been on the Lexus of Calgary team?
ZC: "I've been on the Lexus of Calgary team one year. I started on December 11, 2014 so it is exactly one year!"
Q: The tagline for Lexus of Calgary is "Experience VIP Service." From your perspective, what does that mean to you?
ZC: "It means to me that all the employees try to do as much as they can for meeting the guests needs. To be helpful, nice, kind, pleasant, and smiling. We do a good job of making guests feel very comfortable when they visit."
Q: What's the best part of working in your role?
ZC: "What I like about my job is the fact that I can meet and talk to nice, interesting and inspiring people as well as work with such great coworkers and a friendly working environment. And as I am able to do the latte art, I am glad that people are nicely surprised when they get their coffee with heart or flower shapes in the middle of their cup. I feel like I make their day."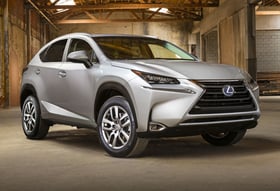 Q: What is your dream car? 
ZC: "The Lexus NX models"
Q: What do you do in your free time?
ZC: "I like traveling, walking in nature, hiking, handcrafting, cooking, hanging out with my friends, attending any cultural events."
Come visit Lexus of Calgary and let Zaneta make you a hand-crafted beverage!
Hours of Operation
Sales
Service
Parts
Sales
Sales
Monday - Thursday

9:00am - 8:00pm

Friday - Saturday

9:00am - 6:00pm

Sunday

Closed
Service
Service
Monday - Friday

7:00am - 6:00pm

Saturday

9:00am - 4:00pm

Sunday

Closed
Parts
Parts
Monday - Friday

7:00am - 6:00pm

Saturday

9:00am - 4:00pm

Sunday

Closed
Disclaimer
By submitting your email address or phone number, you allow us, Lexus of Calgary, to include you on our contact lists to send you information about our products, services and promotions. You may revoke consent at any time by clicking on the "Unsubscribe" link in your email.